Apple muffins
Compatibile with Thermomix TM5 and TM31
Ingredients
2 (chopped) apples
2 eggs
9 oz buttermilk
3 oz vegetable oil
10 oz self raising flour
1 tsp baking powder
2 tsp cinnamon
4 oz sugar
To decorate
to taste brown sugar
(sliced) apples
Steps
Put into the bowl the chopped apples: 5 sec. speed 10.
Check for a finely chopped result and set aside in a bowl.
Add the eggs, buttermilk and oil: 20 sec. speed 4.
Add the grated apple, flour, baking powder, cinnamon and sugar: 5 sec. speed 4.
Check for a lumpy result and scrape down the sides of the bowl: 3 sec. speed 4.
Trasfer the mixture into the prepared cases and fill them up for ¾.
Decorate with brown sugar and sliced apple and cook for 20-25 minutes at 350°F.
Allow to cool in the tray for 5 minutes before transferring onto a wire rack to cool completely.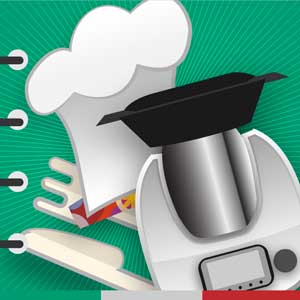 Recipes For Thermomix