Apple pancakes
Compatibile with Thermomix TM5 and TM31
Ingredients
For the pancakes
280 g self raising flour
60 g sugar
250 g milk
2 eggs
2 tsp (extract) vanilla
50 g butter
For the caramelized apples
3 (large) apples
1 tbsp water
1 tsp cinnamon
200 g brown sugar
300 g double cream
80 g butter
1 tsp (extract) vanilla
Steps
For the caramel sauce
Put into the bowl (washed and empty) sugar, cream, butter and vanilla: 9 min. 195°F speed 3.
Set aside into a cup.
Put into the bowl apple slices, water and cinnamon: 8 min. 210°F speed Soft reverse.
Check for a well combined result not too wet, if needed, drain any excess water.
Set aside into a bowl.
For the pancakes
Put into the bowl all the pancakes ingredients: 30 sec. speed 5.
Check for a creamy and well combined result, if needed add more milk.
Heat a frying pan over medium heat and melt a small piece of butter.
Pour on the frying pan a small ladle of the mixture and cook for 30 seconds on each side.
Spoon apples over pancakes, pour with the caramel cream and serve.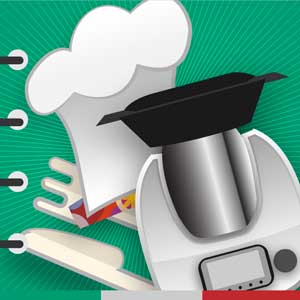 Recipes For Thermomix