Bacon and egg potato salad
Compatibile with Thermomix TM5 and TM31
Ingredients
8 large (for salad) potatoes
6 slices bacon
7 eggs
4 scallion
7 oz sour cream
7 oz mayonnaise
to taste salt
to taste pepper
Steps
Fill the bowl with hot water, place eggs into basket and put it into the bowl.
Put diced potatoes into Varoma and Varoma's tray: 22 min. temp. Varoma speed 4.
Cook bacon into a frying pan (medium heat) until crispy and allow to cool.
Dice the bacon and add it to a large serving bowl.
Add scallion (sliced), sour cream and mayonnaise.
Remove the eggs from the bowl, peel them (when cold), dice them and set aside.
Stir potatoes into the Varoma and continue to cook: 10 min. temp. Varoma speed 4.
Add diced eggs and cooked potatoes into the bowl with mayonnaise mix and carefully mix by hand.
Cover the bowl with cling film and place in the fridge to cool till serve.
For better result let rest in fridge the whole night.
Mix the salad by hand and serve.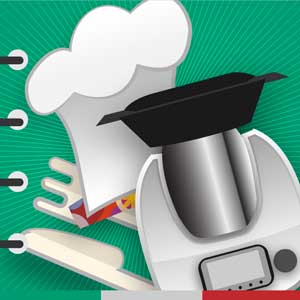 Recipes For Thermomix