Banana bread
Compatibile with Thermomix TM5 and TM31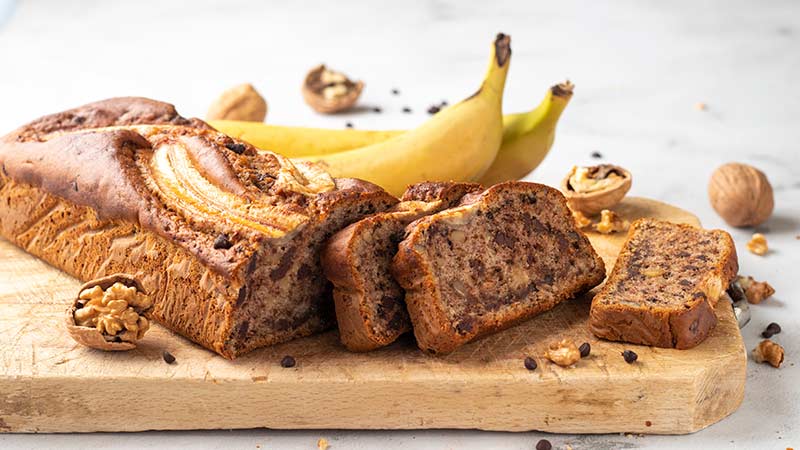 12 inches x 4 inches loaf tin
Ingredients
3 oz walnuts (peeled)
9 oz plain flour
5 oz brown sugar
0.5 oz baking powder
half tsp bicarb soda
a pinch salt
14 oz bananas
4 oz butter
1 eggs
3 oz chocolate chips
1 tsp vanilla (extract)
Steps
Put the walnuts in the bowl: 2 sec. speed 5.
Check that you have obtained a coarse grain otherwise repeat the previous point.
Set aside in another bowl.
Put the flour, sugar, baking powder, baking soda and salt in the bowl: 30 sec. speed 4.
Set aside in another bowl.
Put the sliced bananas in the bowl (even if dirty): 10 sec. speed 6.
Scrape down the sides of the bowl and add the eggs, vanilla and butter: 1 min. speed 4.
Add the flour mixture set aside previously: 1 min. speed 5.
Add the chopped walnuts and the lightly floured chocolate chips: 10 sec. speed 3 reverse.
Pour the mixture into a greased and floured tin and level the surface.
Cut 2 thin slices of banana lengthwise, sprinkle them with lemon juice and place them on the surface of the mixture.
Bake in a preheated oven at 350 °F for about 50 minutes and carry out the toothpick test.
Remove from the oven, allow to cool completely and serve.
Note
It is possible to omit both the nuts and the chocolate chips.
It is possible to replace brown sugar with an equal amount of normal sugar.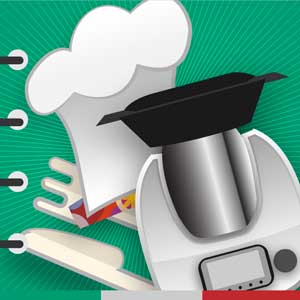 Recipes For Thermomix