Chicken sausage rolls
Compatibile with Thermomix TM5 and TM31
Ingredients
1 carrot
half (green) capsicum
2 cloves garlic
3 oz parmesan
to taste pepper
2 large breasts chicken
1 tsp vegetable stock
4 sheets puff pastry
2 eggs
to taste sesame seeds
Steps
preheat oven to 180 degrees.;
Put into the bowl carrot (chopped), capsicum (roughly chopped), garlic cloves, parmesan and pepper: 8 sec. speed 7.
Add chicken (chopped into chunks) and vegetable stock: 5 sec. speed 7.
Transfer the wet chicken mixture on the puff pastry.
Rolls up the puff pastry sheet and cut each roll into small rolls.
Brush the rolls with beaten eggs and top with sesame seeds.
Transfer the rolls on the tray, lined with baking paper, and bake at 350°F for approximately 30 minutes (until golden brown).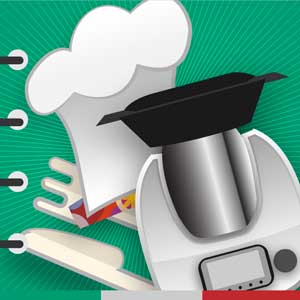 Recipes For Thermomix