Christmas snow balls
Compatibile with Thermomix TM5 and TM31
Ingredients
9 oz plain biscuits
2 oz (shelled) pistachios
4 oz white chocolate
2 oz dessicated coconut
3 oz (dried) cherries
1 tsp (paste) vanilla
1 tsp cinnamon
14 oz condensed milk
Steps
Put the biscuits into the bowl: 5 sec. speed 8.
Set aside.
Put pistachios into the bowl: 2 sec. speed 7.
Set aside with biscuit crumbs.
Pun the chocolate into the bowl: 5 sec. speed 9.
Add biscuit crumbs, pistachios, coconut, cherries, vanilla paste, cinnamon and condensed milk: 20 sec. speed 3 reverse.
Check for a creamy and tacky result and transfer in freezer for 30 minutes.
Roll the mixture into 1 inch sized balls and roll each in dessicated coconut.
Place them on a tray lined with baking paper and put in the fridge for half an hour before serving.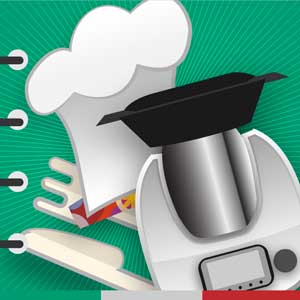 Recipes For Thermomix