Halloween pumpkins biscuits
Compatibile with Thermomix TM5 and TM31
Ingredients
9 oz pumpkin
6 oz sugar
1 tsp (extract) vanilla
1 lemon
10 oz plain flour
2 oz seed oil
to taste chocolate cream
Steps
Put into the bowl the pumpkin diced: 20 min. 210°F speed 2.
Drain the liquid and set aside.
Put into the bowl (clean and dry) sugar, vanilla and lemon zest: 5 sec. speed 10.
Scrape down the sides of the bowl and add flour, seed oil and pumpkin purea: 1 min. vel. 3.
Check for a pastry result and transfer in fridge to rest for 30 minutes.
Flatten the dough with a rolling pin and, with a small cup (or halloween's cookie cutters), make di biscuits.
Transfer the biscuits onto a baking tray, lined with baking paper.
Bake in the preheated oven at 350°F for 20 minutes (until golden brown).
Allow the biscuits to cool completely and decore with chocolate cream.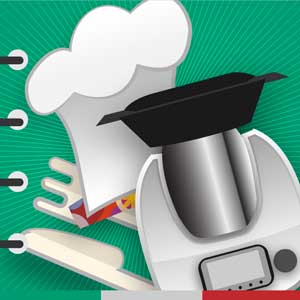 Recipes For Thermomix