Halloween witches' fingers
Compatibile with Thermomix TM5 and TM31
Ingredients
3 oz butter
3 oz sugar
1 eggs
9 oz self raising flour
1 tsp (extract) vanilla
q.s. slivered almonds
q.s. cherry jam
Steps
Put into the bowl butter, sugar and egg: 1 min. speed 8.
Add flour and vanilla: 20 sec. speed 5.
Roll and wrap with plastic film the dough and transfer in the fridge for 30 minutes.
Get small pieces from the dough and roll them into a finger shape.
Place them in an oven tray, lined with baking paper.
Use the almonds for the nails and press them into dough a little.
Make small cuts (not too deep) with a knife to make them look like wrinkles on the fingers.
Bake them in preheated oven at 350°F for 35 minutes (until golden brown).
After baked spread a little jam at the bottom of the fingers and place them into the serving plate.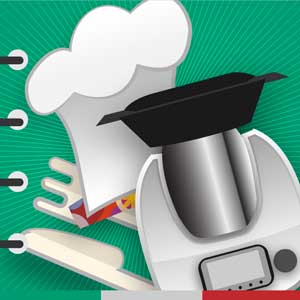 Recipes For Thermomix