Ham and cheese scrolls
Compatibile with Thermomix TM5 and TM31
Ingredients
For the dough
16 oz (warm) water
26 oz self raising flour
2 tsp salt
4 oz olive oil
For topping
7 oz sliced ham
7 oz grated cheese
5 tbsp tomato paste
Steps
Put into the bowl water, salt, flour and oil: 20 sec. speed 4.
Then: 2 min. speed Knead.
Transfer the dough into a lightly oiled bowl, cover with a towel and leave to rest (in a warm spot) for 30 minutes (until doubled).
Transfer the dough on a floured bench and roll the dough out in a rectangle form (ca. 10 inch x 15 inch).
Spread the tomato paste over the dough (leaving a small gap around the edges) and scatter the ham over.
Sprinkle over also the cheese and carefully roll the dough until enclosed.
Cut the big roll into approximately 12 slices and transfer them on a tray, lined with baking paper.
Brush the rolls with oil and bake in the preheated oven at 390°F for 20 minutes, until golden brown.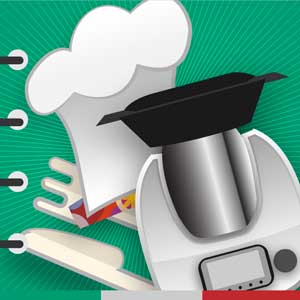 Recipes For Thermomix