Orange pistachio fudge
Compatibile with Thermomix TM5 and TM31
Ingredients
7 oz plain biscuits
3 oz pistachios
7 oz dark chocolate
1 peel grated orange
14 oz condensed milk
1 oz coconut oil
Steps
Put biscuits into the bowl: 4 sec. speed 4.
Set aside and put into the empty bowl pistachios: 2 sec. speed 7.
Set aside.
Punt into the bowl chocolate: 10 sec. speed 9.
Add the orange peel grated, condensed milk and coconut oil: 3 min. 120° speed 2.
Scrape down the sides of the bowl and melt a further: 1 min. 120° speed 2.
Add biscuits and pistachios: 30 sec. speed 2 reverse.
Pour the chocolate mixture into a 8 inch x 8 inch square tin, lined with baking paper.
Transfer in the fridge for at least 2 hours.
Cut into pieces and serve.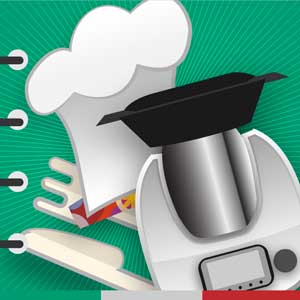 Recipes For Thermomix