Prawn and vegetable curry
Compatibile with Thermomix TM5 and TM31
Ingredients
10 oz onion
3 cloves garlic
1 oz olive oil
14 oz crushed tomatoes
½ tsp seeded mustard
1 tsp cayenne pepper
1 head cauliflower
1 potatoes
1 courgettes
14 oz prawns
Steps
Put into the bowl onions (roughly chopped) and garlic cloves: 3 sec. speed 5.
Add oil: 4 min. temp. Varoma speed Soft reverse.
Add tomatoes, seeded mustard and cayenne pepper: 6 min. 210°F speed 1 reverse.
Add 2 cups of water to the bowl, put prawns into the rice basket and set it in place.
Set in place the Varoma and put in the cauliflower (in pieces), the potato and the zucchini (sliced): 30 min. temp. Varoma speed 3 reverse.
Every 10 minutes stir the vegetables in the Varoma and check until cooked to taste.
Once cooked serve the prawn with the sauce in the bowl and the steamed vegetables.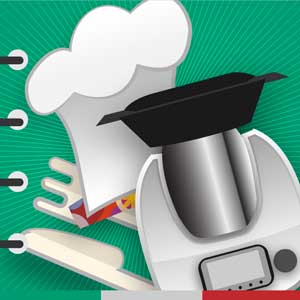 Recipes For Thermomix