Pumpkin spice truffles
Compatibile with Thermomix TM5 and TM31
Ingredients
6 oz Graham cracker
2 oz cream cheese
2 tbsp icing sugar
3 oz (puree) pumpkin
½ tsp pumpkin pie spice
½ tsp cinnamon
4 oz (melted) white chocolate
For topping
9 oz white chocolate
Steps
Put into the bowl the Graham cracker: 30 sec. vel. 7.
Set aside.
Put into the (empty) bowl the cream cheese and the icing sugar: 1 min. vel. 3.
Add pumpkin puree, pumpkin pie spice, cinnamon, graham cracker crushed and melted chocolate: 1 min. vel. 3.
Check for a soft and thick result.
Transfer the mixture into the freezer and let it rest for up to 24 hours.
Roll the mixture into 1 inch sized balls, place them on a tray lined with baking paper and put in the fridge for half an hour.
Put the chocolate into the cleaned bowl: 3 min. 50°F speed 3.
Dip the truffles into the bowl of melted chocolate and use a forks to roll the truffles around until completely coated and put them back on the lined tray.
Decorate with your choice of toppings (candy canes, sprinkles, etc) and place into the fridge to set for at least 1 hour.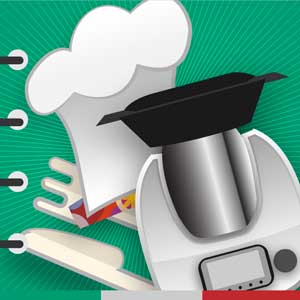 Recipes For Thermomix