Ricotta blueberry pancakes
Compatibile with Thermomix TM5 and TM31
Ingredients
2 eggs
½ tsp salt
1 oz sugar
9 oz ricotta
4 oz buttermilk
1 tsp (extract) vanilla
4 oz plain flour
1 tsp baking powder
1 lemon
to taste blueberries
to taste maple syrup
Steps
Place the butterfly into the bowl (dry and cleaned) and add egg whites and salt: 3 min. 100°F vel. 4.
Set aside to rest into the fridge.
Remove the butterly and put into the bowl egg yolks, sugar, ricotta, buttermilk and vanilla extract: 30 sec. speed 5.
Add flour, baking powder and lemon zest: 30 sec. speed 5.
Check for a creamy and well combined result then add the wipped egg white: 1 min. speed 2.
Heat a frying pan over medium heat and melt a small piece of butter.
Pour on the frying pan a small ladle of the mixture and cook for 30 seconds.
Add on the pancakes some blueberries, flip and continue to cook on the other side.
Serve the pancakes with fresh blueberries and maple syrup.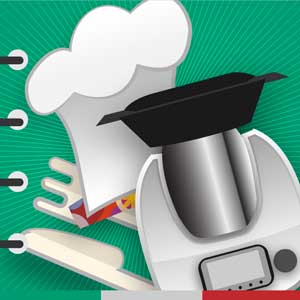 Recipes For Thermomix