Smarties cookies
Compatibile with Thermomix TM5 and TM31
Ingredients
7 oz unsalted butter
half cup sugar
1 cup brown sugar
1 tsp salt
2 tsp (extract) vanilla
2 eggs
2 1/2 cups plain flour
1 tsp bicarb soda
1 1/2 cups smarties
Steps
Put into the bowl butter, sugar and brown sugar: 1 min. speed 6.
Add salt, vanilla and eggs: 30 sec. speed 3.
Add the flour and bicarb soda: 40 sec. speed 4.
Place heaped teaspoon sized balls of the mixture on the tray, lined with baking paper, and sprinkle the smarties all over the cookies.
Bake in the preheated oven for 10 minutes at 390°F (until lightly golden).
Remove the cookies from the tray and allow them to cool completely on a wire rack.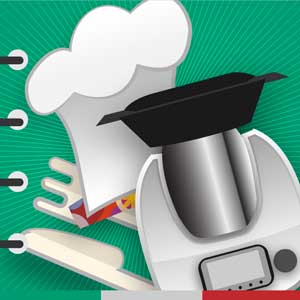 Recipes For Thermomix