Veggie and tomato scrolls
Compatibile with Thermomix TM5 and TM31
Ingredients
10 oz self raising flour
4 oz butter
to taste salt
6 oz milk
½ tsp tomato paste
1 oz parmesan
4 oz (leaves) spinach
4 oz sun-dried tomatoes
4 oz feta cheese
Steps
Put into the bowl flour, butter and salt: 10 sec. speed 8.
Add the milk: 10 sec. speed 6.
Then: 2 min. speed Knead.
Wrap the dough with cling film and transfer in the fridge to rest for 30 minutes.
Transfer the dough on a floured bench and roll the dough out in a rectangle form (ca. 10 inch x 15 inch).
Spread the tomato paste and the parmesan over the dough (leaving a small gap around the edges) and sprinkle the baby spinach, sun dried tomatoes (chopped) and feta over.
Brush one long edge with a little bit of milk and, starting at the other side without milk, carefully roll the dough until enclosed.
Cut the big roll into approximately 12 slices and transfer them on a tray, lined with baking paper.
Brush the rolls with milk and bake in the preheated oven at 410°F for 25 minutes, until golden brown.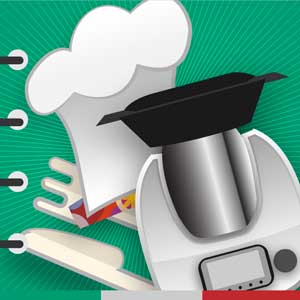 Recipes For Thermomix