Chicken teriyaki rice
Compatibile with Thermomix TM5 and TM31
Ingredients
2 breasts chicken
14 oz basmati rice
3 cups water
5 oz teriyaki sauce
2 carrot
1 head broccoli
to taste snow peas
to taste peas
to taste corn kernels
2 onion
Steps
Cut chicken into 6 or 8 pieces and put into the bowl.
Cover with teriyaki sauce and place in the fridge for a few hours (better overnight).
Place chicken pieces on the bottom Varoma tray with all his sauce. Do not wash the bowl out.
Place rice into rice basket and wash rice thoroughly (2 or 3 times).
Put the basket in place in the bowl and pour over the water and cook: 12 min. 210°F speed 3.
Add veggies on top steaming attachment tray and continue: 10 min. 210°F speed 3.
Check that the chicken is cooked otherwise continue for some minutes.
Remove steaming attachment carefully (is hot!) and remove rice basket and pour the sauce from the bowl into a jug.
Place the chicken into the bowl: 8 sec. speed 4 reverse.
Add cooked veggie and mix well by hand to combine.
Put rice in a large plate, add chicken and veggie mix and pour over the sauce that was set aside in the jug
Serve.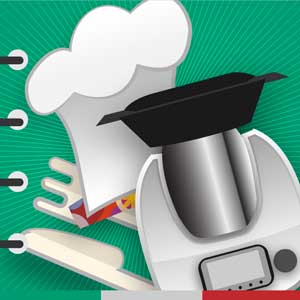 Recipes For Thermomix