Thai chicken sesame sausage rolls
Compatibile with Thermomix TM5 and TM31
Ingredients
3 sheets puff pastry
12 oz (breast) chicken
1 carrot
3 spring onion
1 clove garlic
1 tsp grated ginger
4 tbsp coconut milk
1 tsp lime juice
1 eggs
to taste sesame seeds
Steps
Put into the bowl carrot and spring onions (chopped), garlic (peeled) and ginger: 5 sec. speed 8.
Add chicken (chopped into pieces), coconut milk and lime juice: 5 sec. speed 8.
Check for a slightly wet result.
Stretch the puff pastry and layer on the chicken mixture.
Rolls up the puff pastry sheet and cut each roll into rolls (approx 12 from each sheet).
Line the rolls on two trays, lined with baking paper, brush to taste with egg and sesame seeds and bake in the preheated oven for 30 minutes at 360°F.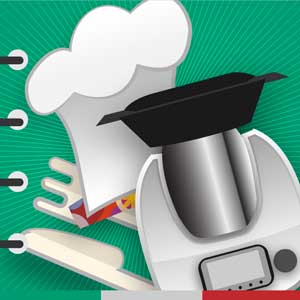 Recipes For Thermomix