Tortilla pie
Compatibile with Thermomix TM5 and TM31
Ingredients
1 onion
2 garlic
2 carrot
2 capsicum
1 courgettes
1 oz olive oil
3 tbs taco seasoning
14 oz mince
14 oz whole peeled tomatoes
1 tbs (concentrate) vegetable stock
5 tortillas
to taste parmesan
to taste cilantro sprigs
10 oz corn kernels
Steps
Put into the blow onion (peeled and quartered), garlic (peeled), cattots (peeled and chopped), capsicum (roughly chopped) and zucchini (chopped): 10 sec. speed 8.
Add oil and taco seasoning: 3 min. temp. Varoma speed 2.
Add mince, corn and continue: 6 min. temp. Varoma speed 2 reverse.
Add tomatoes and stock concentrate: 16 min. temp. Varoma speed 2.
Put two heaped tablespoons of bowl mixture in a casserole and top with a tortilla.
Repeat for a second layer (taco mixture + tortilla) and a third one.
Continue until end with last tortilla topped with taco mixture.
Top with parmesan and bake in the preheated oven for 15 minutes at 350°F.
Garnish with cilantro and serve cutted in slices with salad and sour cream.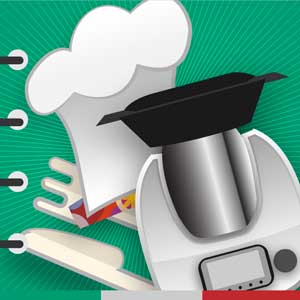 Recipes For Thermomix